Gem Set
Gem Set telah diformulasikan secara khusus untuk melindungi batu berharga seperti berlian, ketika mereka diatur ke dalam pola lilin, terbakar dan melemparkan, untuk memastikan tidak ada kerusakan pada batu selama siklus pembakaran keluar. Suhu maksimum dicapai selama siklus kelelahan tidak HARUS melebihi 630 ° C.
Gem Set memegang batu di tempat selama periode dewax, dan melindungi mereka dari panas di siang sisanya dari proses kelelahan, andthe logam cair ketika dilemparkan. Set Gem akan producehigh definisi, coran permukaan bersih, dengan batu yang tetap sejelas mereka sebelum kelelahan.
Permeabilitas pengujian ekstensif dan pengembangan telah terjadi untuk memastikan maksimum karbon dilepaskan dari cetakan selama pemadaman. Hal ini diformulasikan dengan aditif khusus untuk meningkatkan batu-di-tempat hasil casting dan meningkatkan cleanoff. Gem Set akan membuang semua lebur paduan bawah 1250 ° C.
WATER TO POWDER RATIO
Machine Vacuum Mixing

38 : 100

Hand Mix Then Vacuum

38 : 100
Do not steam De-Wax
Do not burnout above 630 ํC
Do not quench, only knock out when cold

MACHINE VACUUM MIXING
HAND MIX THEN VACUUM
0 min
Weigh out water & powder
Add powder to water
0 min
Weigh out water & powder
Add powder to water
1 min
Mix under vacuum
1 min
Mix by hand
0.5 min
Stop mixer and scrape blades
3 min
Mix with machine
3.5 min
Mix under vacuum
1 min
Vacuum mixer bowl
2 min
Pour flasks
1 min
Pour flasks
1 min
Vacuum flasks
2 min
Vacuum flasks
8 min
Total time taken
8 min
Total time taken
90 min
Remove tape from flasks after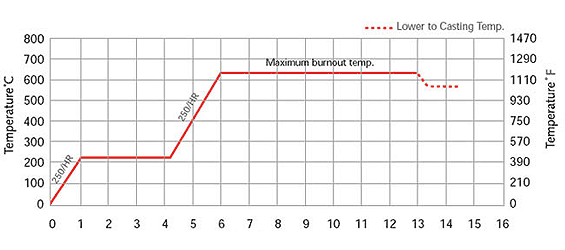 Do not remove flasks from furnace to cast until they have been held at casting temperature for a minimum of 1 hour. lf held for less than 1 hour, the core of the flasks will be at a much higher temperature than the digital temperature display states, and may result in metal mould reaction.